Categories: Flash, Free, Games, Online, Room Escape, Video walkthrough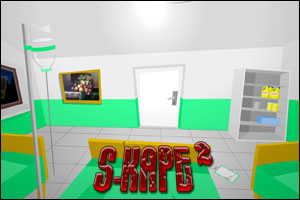 S-Kape 2 is the sequel to S-Kape, a Room Escape game from phr4nz aka Angry Cow.

"This game is creepy. You wake up trapped in an abandoned hospital and all you have to do is to escape.
It's not that easy, though. You have to beat many nasty puzzles in various environments. However, since this is not an action game but a puzzle-adventure, you can't die and time isn't limited.
If you are really observant, you might find several mind blowing easter eggs."
I agree with the author: S-Kape 2 is not an easy game at all!
S-Kape 2 video walkthrough (thanks Greggy Boy!)