Categories: 5 minute, Action, Adventure, Flash, Free, Games, Online, Point'n'click, Walkthrough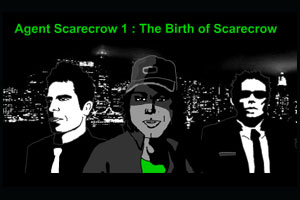 Agent Scarecrow – Chapter 1, the Birth of Scarecrow is the first part of a new Point'n'Click adventure series created by the folks behind JohnnyB Design.
"Mike is your average 20-year old guy. One day, Mike is mistaken for a secret agent and gets involved in a wild adventure featuring crazy chases, puzzles and death… Along the storyline, Mike gets to travel around the World… with little time to make friends.
In Agent Scarecrow, you play the part of the hero and your decisions will dictate the course of the story. In Agent Scarecrow, different players will experience different game developments depending on the path they follow.
The game classifies as an Action-Adventure (Actionventure) game, with puzzles and point-and-click elements and action/fight scenes".

Agent Scarecrow – Chapter 1 is short and really easy to complete. Don't expect much of a challenge here. That being said, this first chapter is a very nice 5 minute diversion, and I'm already looking forward to the next chapter!
WARNING: PG 13. not suitable for children!
Update: walkthrough in comment #4 (thanks Phoebe!)