Categories: Flash, Free, Games, Online, Physics, Puzzle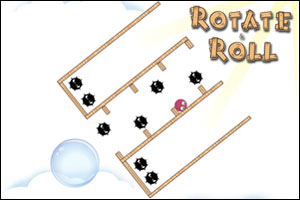 Rotate and Roll is a Physics-based spin puzzle game that reminds me of games like Sola Rola or Spin the Black Circle.
Your goal here is to rolls the ball(s) to the exit bubble to progress to the next level.
Use the left and right arrow keys to rotate the maze and collect the coins to unlock the exit bubble.
Rotate and Roll features 40 levels of various difficulty and is lot's of fun.
You'll need a couple of minutes to get used to the controls, but once you do, you can't stop playing it!
More spin puzzle games: