Categories: Demo, Download, Games, Hidden Object, Mac Os, Sponsors, Windows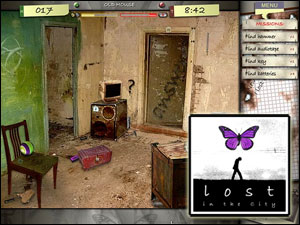 After the first date with a charming girl named April, our hero wakes up alone in an unknown abandoned city after being drugged.
He is trapped and believes this somehow involves April.
Explore the city while trying to investigate how April is involved.
Help the hero survive in an atmosphere of drama and suspense. Are you Lost in the City?
Breathtaking graphics.
Unique mini-games.
Great atmosphere.
Interesting blend of adventure and hidden object games.
Nice and long.