Categories: Flash, Free, Games, Online, Puzzle, Strategy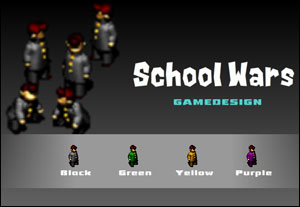 After Dice Wars that inspired the very popular multiplayer game kdice, here is School Wars, a new real-time strategy game released at Gamedesign by the Japanese game designer Taro Ito.
After you choose your own school color, your goal here is to annihilate all the others schools students!
The game seems to have no instructions, so here is what I've deduced so far:
Each school starts the game with three units on its base.
To command a unit, simply click it and then click a target (an enemy unit) or a destination square.
To select multiple units to command, click and drag a box around the units you wish to move.
Try to control as much spade and hearts squares as you can: the more territories you control, the faster you get new units.
Click and drag the rectangle in the small window located in the bottom right corner of the screen to explore the entire map and locate all your enemies.
If School Wars is very well done, the game suffers from the same problem as Dice Wars: the AI is terrible and it's very, very hard to lose against the computer!
That being said, I really enjoyed this single player version while I played it, but because of the AI, the game has no real replay value. I wonder how successful School Wars would be with a multiplayer mode …