Categories: Adventure, Flash, Free, Games, Online, Point'n'click, Walkthrough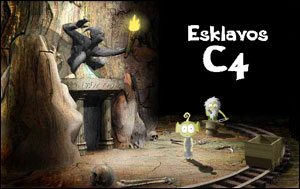 Here it is! The fourth chapter of the Esklavos series created by Federico Rutenberg is online! This latest chapter includes a new dialogues system called K-ROL.
Virop is now trapped in a dark cavern in which he will meet Nim, an old guy who has already spent 20 years underground, looking for his sister. Nim teaches Virop that the only way to get out of here is to open the stone door and defeat Floda…
With its beautiful graphics and animations, this fourth chapter will delight all Point'n'Click adventure fans!
Update: walkthrough in comment #7 (thanks ben!)