Categories: Flash, Free, Games, Online, Room Escape, Walkthrough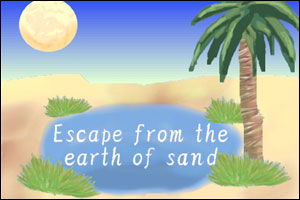 Escape from the Earth of Sand is a new Room Escape game by StrawberryCafe (Treasure Search of Silver, Escape from room of hesitation, Heart Escape, Escape from rooftop where "Sakura" flutters).
I should correct myself and call this game a Desert Escape game instead of a Room Escape game.
Anyway, there are two endings in this one.
Update: Escape from the Earth of Sand walkthrough in comment #1 (thanks pOlo!)