Categories: Flash, Free, Games, Online, Strategy, Tower Defense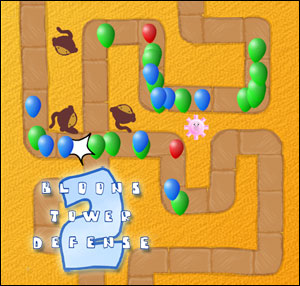 Bloons Tower Defense 2 is now live!
The sequel to Bloons Tower Defense made by Ninjakiwi comes with 3 new maps – easy, medium and hard, one new tower type, some new upgrades, and two brand new items that you can put on the road in case some bloons manage to escape.
There are also two new bloon types to struggle with and if you are already a Bloons TD fan, I doubt Bloons Tower Defense 2 will make you rethink your position.
Prepare yourself for lots of fun and hours of popping bloons!