Categories: Flash, Free, Games, Online, Puzzle, Skill, Video walkthrough 103 comments - December 2, 2008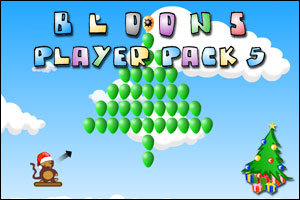 Excellent news for Bloons fans, if you didn't know already, the fifth installment in the never ending Bloons series created by Stephen Harris is live!
This Player Pack 5 contains 50 new levels – as usual – "of bloons-ey, christmas-ey goodness" created by fans from all around the world; you know the drill: use your mouse to aim, click and hold to choose the power of your throw and then release. Pop as many bloons as possible! Don't forget to turn on the unlimited dart mode in case you get stuck!
I hope we will see new installments next year!