Categories: Adventure, Advergames, Flash, Free, Games, Online, Room Escape
Matt Sandorf – Journey to Endless Entertainment is a brand new Room Escape / Adventure advergame created by Rodrigo Roesler and Bruno Maestrini (Trapped series: The Dark, The White Rabbit) for Sony Europe.
"In the 90', some insanely rich Japanese businessman secretly started to build a space station. Not even NASA had ever heard about it.
It was supposed to be a kind of super resort *slash* mega science lab. He wanted it to be the most modern thing ever. The news got out a few months ago, after over a decade of hard work.

The station was sent to space with all sorts of scientists, specialists and artists.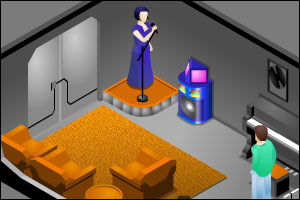 And me! When I heard about the Beatles reunion on board, well… I HAD to come! My name is Matt Sandorf and nobody saw me get on the ship. I'm pretty sure I'm safe here.
Hey, there is someone here! Oh crap…
Take him to the store room!"
You are trapped in the store room now, and I'm sure it won't take long before you get out of it. The problem is you are in space station, remember?
This game uses the same engine as the Trapped series, so if you liked Rodrigo Roesler's other games, you won't be disappointed with this new one!