Categories: Flash, Free, Games, Online, Puzzle, Video walkthrough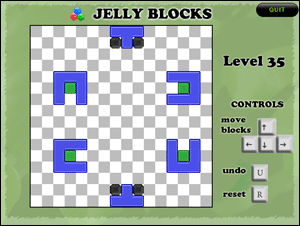 Jelly Blocks is a new puzzle game created by Michael Le. The aim of the game is to connect the matching colored blocks together.
To do so, simple use the arrow keys to move the blocks, and note that all the blocks move simultaneously.
100 levels are available and your progress through the game is automatically saved after you complete a level, so you can come back later and continue where you left off.
The first 30 levels are very fast to complete; however, the later levels are more time consuming.
Simply done, Jelly Blocks becomes seriously addictive after a while!
Jelly Blocks – Levels 1-50 video walkthrough.
Jelly Blocks – Levels 51-100 video walkthrough.