Categories: Flash, Free, Games, Online, Point'n'click, Walkthrough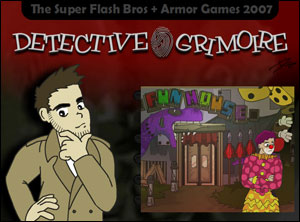 Detective Grimoire is a Point'n'Click crime investigation game created by the Super Flash Bros Tom and Adam Vian, the authors of Blue Rabbit's Climate Chaos.
You play as Private Detective Grimoire himself in the game and you have to figure out who killed Hugh Everton, who was found dead at the local fairground that operates just outside of town. The cleaner, one Jerry Spears, discovered the dead body of his former colleague inside the Hall of Mirrors. The clown, Charles Ringer, who works at the same fairground, is the main suspect…
Tom and Adam Vian have been working on this game for over five months, and the result is very impressive. Be warned though: the game might not appeal to those of you who don't like a lot of readings in games.
The Super Flash Bros put a making of Detective Grimoire on their site: be sure you don't miss it.
Source: Graeme.
Update: walkthrough in comment 7 (thanks ben!)