Categories: Action, Flash, Free, Games, Online, Shooter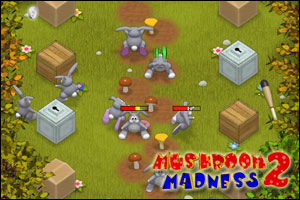 Mushroom Madness 2 is here! In this sequel to Mushroom Madness, your goal is still to protect your mushrooms from the onslaught of hungry animals that want to eat them.
This second installment features various game modes and an achievements system to keep you entertain!
As addictive as the original, Mushroom Madness 2 is well balanced in its difficulty. You may find traps difficult to use and spot a few glitches here ans there, but overall, this game is a must try!
Please be patient while the game is loading…